---
Sort by:
Top sellers
New
Price ascending
Price descending
Filter
---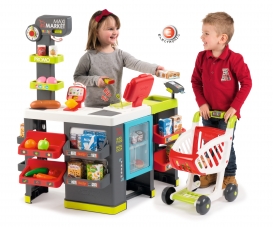 Shops & accessories
Maxi Supermarket with shopping trolley
€75.99
Designed to resemble a real supermarket and guaranteed to provide little shopkeepers with maximum playtime fun: in the modern Smoby Maxi Supermarket, kids can have can lots of enjoyment doing their weekly shop. The highlight is the fridge with a transparent front. The practical shopping trolley has a coin slot in the handle just like the real ones. Whether they're the shopkeeper behind the counter or the shopper in front of the counter, with the electronic cash till featuring an LCD display, calculator function and a scanner with beeping sound and light function, kids will have plenty of fun. The cashier can make an announcement using the microphone (non-functioning) and the money compartment, which opens and closes, enables play coins and notes to be stored away safely. At the same time, kids can learn how to handle money. What's more, if those little shoppers don't have any cash, they can simply insert the credit card into the card reader. Fruit and vegetables can be weighed on the mechanical scales and the extensive range of products on offer also includes sweet treats and play grocery packages. All products can be neatly displayed on the shelves. The adjustable clock allows little shopkeepers to decide for themselves when it's closing time. The cash till is battery operated and the required batteries are supplied.     Product details: Product dimensions: (LxBxH): 83 x 59.6 x 89.6 cm. Age recommendation: Suitable for children aged 3 years and over.
More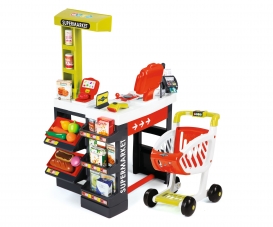 Shops & accessories
Supermarket with shopping trolley red/green
€70.99
Walk in and shop in the innovative shop from Smoby with the realistic design of a real supermarket till! Little shop owners can buy and sell in a super-modern environment. Equipped with a comprehensive range of accessories such as an electronic till with LCD screen, calculator function and scanner with light and beeping noise. There is also a mechanical scale for weighing fruit and vegetables and a credit card reader. The numerous shelves provide space for the comprehensive range of supermarket goods: Fruit and vegetables, packs of toy food, sweets and much more. The purchases can be transported in the shopping trolley and then put onto the conveyor belt. A coin can be put into the handle, just like the real thing. The equipment also includes banknotes, coins and a pretend credit card.   Product details: Product dimensions (LxWxH): 53.8 x 45.8 x 86.5 cm. Age recommendation: suitable for children aged 3 and over.   1 button battery LR54 (AA) is required for the electronic till (included).
More