---
Sort by:
Top sellers
New
Price ascending
Price descending
Filter
---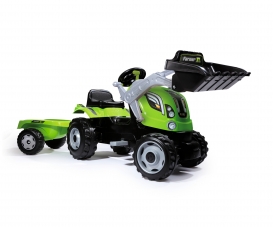 Pedal tractors
SMOBY Tractor Farmer XL-Loader
€104.00
Smoothly operating turntable steering and dust and dirt protected intersangraal chain drive within service-oriented and easy to mount removable chain case, eccentric for easy retightening of the chain. Seat adjustable to 3 different settings. Spoke steering wheel with mechanical horn. Highly manoeuvrable loading shovel with a volume of 3 kg. Incl. 1-axle trailer with lockable trailer coupling.   Product details: Dimensions (L x W x H): 167,5 x 44 x 54,5 cm (tractor with trailer) Maximum load tractor: 50 kg Maximum load trailer: 25 kg From 3 years Made in France
More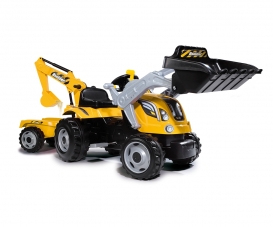 Pedal tractors
SMOBY Tractor Builder Max yellow
currently not in stock out of stock
Become a real site foreman with your Builder Max tractor of a 1.82m length! Adjust your seat to be comfortably seated and go on an adventure! Thanks to the pedals you will be able to easily stroll. With a shovel at the front, a mechanical digger and a detachable trailer at the back, you can hold, transport, and move everything you find as real heavy plant machinery! A stand under the digger stabilizes the tractor during the game. Do not forget to make yourself heard with your horn included in your steering wheel! You will spend whole days having fun with your new tractor! For children aged 3 years and over. Made in France.   Product details: Dimensions: 182 x 44 x 66 cm.
More